Interactive Teaching
Interactive
Teaching
This page shows past events and programs related to Interactive Teaching and their reports.
Learning Styles of Participants (2015)
Here are the interviews with the alumni of Interactive Teaching on their experience while taking the course.
Mr. Shūichi Maekawa

(Teacher at Meiko Gakuen Junior & Senior High School)

My course experience was full of ups and downs. My schedule for the second semester at my school was very tight, making me worry about whether I could continue taking the course. I had plenty of time for WEEK 1, but in WEEK 2, I had a lot of work and skipped taking the test. I heard that Monday was the deadline for WEEK 3, so I began working on it in the morning and knew that the deadline was 9 AM. I misclicked and only got one question correct for WEEK 4… But it was at this point that I really got going, and I scored perfectly from WEEK 5 through to WEEK 8. Except for the 1-point deduction on the final paper No.1, I received perfect scores in No.2 and No.3, resulting in a final score of 77. I was so amazed with the wonderful course design, which intrigued me to the excitement of learning! As expected, I found it difficult to internalize what I learned in the course. Just watching the videos was inadequate. While writing the papers, I realized that I had forgotten so many of the things I had learned. I would recommend that you take notes and create a portfolio so that you can review what you have learned.

Ms. Kayo Matsumura

(University staff member)

I don't have a smartphone, so I watched the classes on my home PC after work and on weekends. When I was very busy, I could catch up by watching two weeks' worth during consecutive holidays. It was very helpful that I could go back and rewatch any part that I found interesting or difficult as many times as I needed. My interest grew after debating with the other participants and asking them questions on the discussion board. I had just begun helping out with classes at the university while learning about active learning, so I was excited to take this course with so many tips that I could immediately put into practice such as how to speak, the importance of reflection, and how to design classes.

Dr. Yasushi Kobayashi

(Associate Professor in the Division of Science Education, Miyagi University of Education)

Teachers of all ages have always wished for their students' growth. Wanting to take part in such excitement, I took "Interactive Teaching." Making use of the rewind and stop functions, I was able to participate in the eight-week online course "as if I were actually there!" The "state of learning" in Japan is in the midst of a drastic change. The same thing can be said for the "state of teachers," but what never changes is that they should always continue learning. The essence of active learning lies in the learners who can develop with "the awareness of being learners." Having these things in mind, I am now practicing "Interactive Teaching" in teacher training.

Mr. Takashi Higuchi

(University librarian)

Regardless of specialization or occupation, there is always a need to raise the next generation, meaning that everyone must get involved in "teaching." In the business world today, it is becoming increasingly rare for one person to complete the full workload and more common to build teams of people with different strengths to yield results on a project-by-project basis. The course is aimed at everyone who is involved in "teaching." It was extremely easy to understand and full of useful content. It made full use of the advantages of online course to visualize what it means to "learn together" among instructors and students. It includes numerous lessons such as the importance of skills in dialogue. I would like to apply what I learned in the course in future situations such as when I need to "make myself understood efficiently when talking about my experience."
Interactive Teaching: Results of the Participant Survey (2015)
Here are the interviews with the alumni of Interactive Teaching on their experience while taking the course.
Outcomes
●Online Course
Outline of Participants
The "Interactive Teaching" course began on November 19th, 2014, receiving over 20,000 registrations from 43 countries and regions by February 2016 (the 3rd period).
Participants' ages ranged from teens to eighties. Besides graduate students and faculty members, participants included elementary and junior high school teachers, those working with HR development in private companies, and those in charge of training and educating the next generation in the fields of medicine and nursing.
●Results of the Participant Survey
Q1
Did the course material match your goals and motivations for taking the course?
(N=1,048)
Over 90% responded that it matched their goals and motivations.
※This is based on the results of the participant surveys conducted after the end of the course (1st and 2nd periods).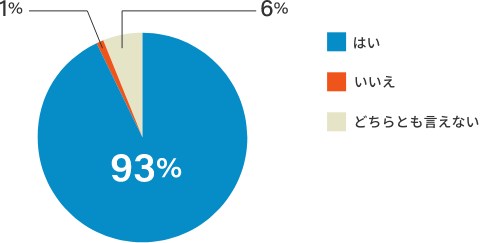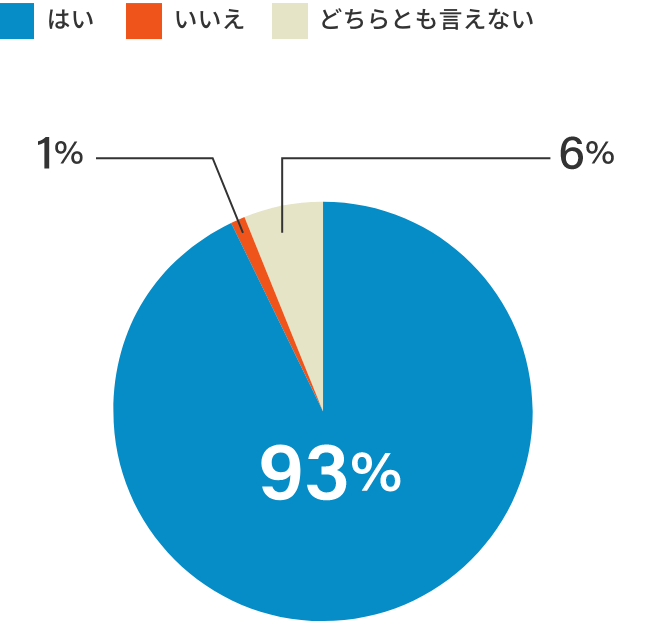 Q2
How did you find the course material compared with initial expectations?
Over 90% responded that the course was fulfilling, academic/specialized, and practical to an extent that "exceeded expectations" or "met expectations."
※This is based on the results of the participant surveys conducted after the end of the course (1st and 2nd periods).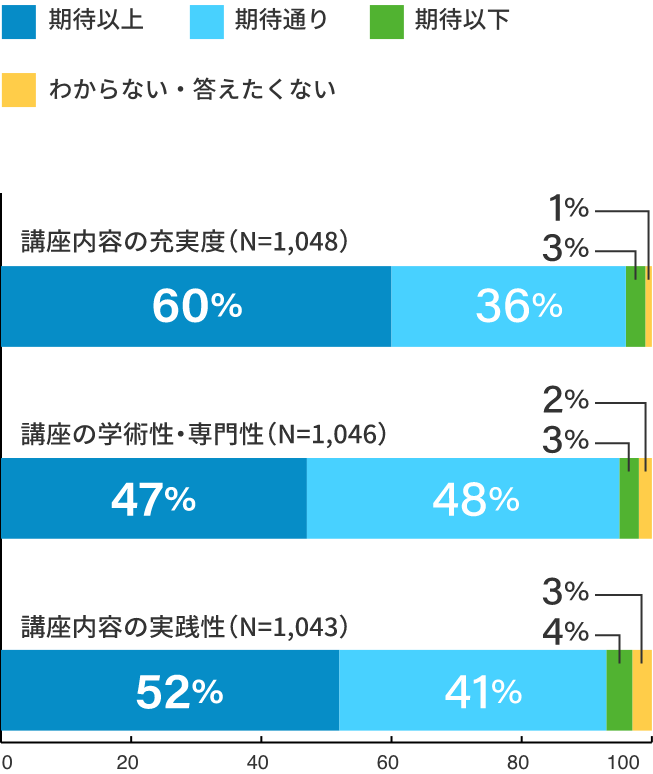 Q3
Pre-post comparison
(N=788)
The proportion of participants who responded that they felt confident of practicing interactive teaching ("very confident" or "confident") increased 3.3-fold after taking the course.
※This is based solely on the data collected from the participants who participated in both surveys before and after taking the course in 1st and 2nd periods.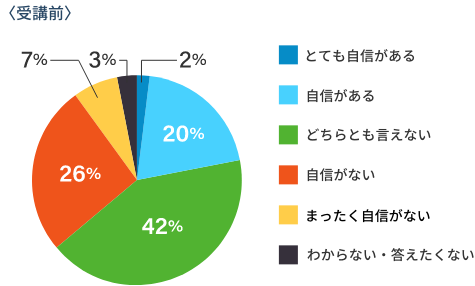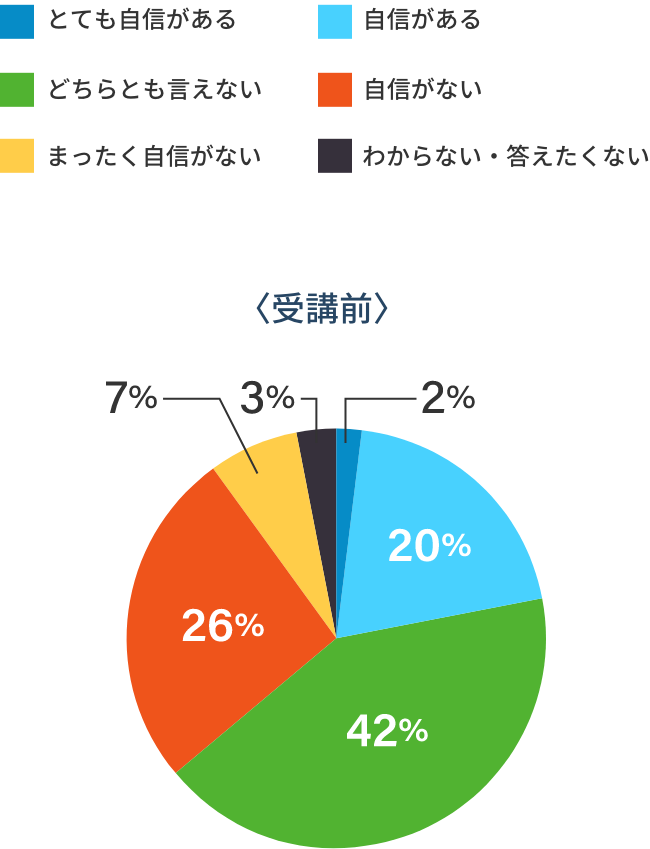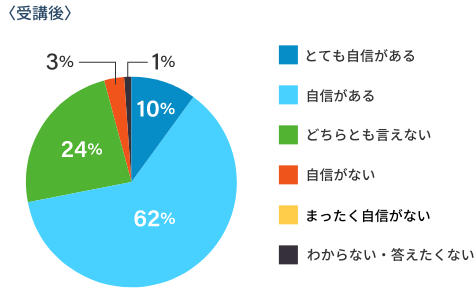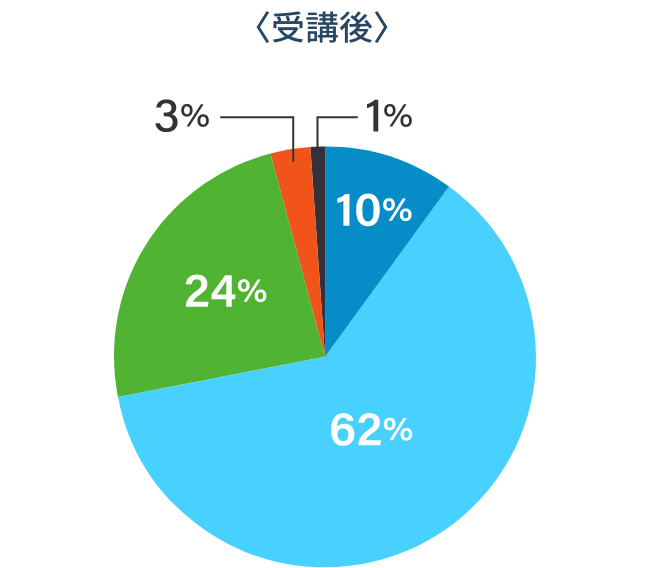 Related Programs(2015)
Skill Session: Short Program

"Facilitation"

We welcomed Mr. Masanori Fujita (actor/producer at Ongakuza Musical), the instructor of Skill Session, as an instructor for the program. He introduced us to an experiential 4.5-hour session concerning the theme "Creating a Space" by using techniques from musicals. The instructor and participants collaboratively explored what a learning space should be in the new age. The participants learned four kinds of icebreakers and practiced self-introductions, which had been highly appreciated in the online course. They also practiced how to project their voices through one-on-one lessons with actors from Mr. Fujita's Ongakuza Musical. They learned about correct posture and how to walk beautifully and experienced an improvisation, all immediately applicable to their teaching. For the finale, all participants acted out a scene together.(November 14, 2015)

Knowledge Session: Short Program

"Rubrics"

Associate Professor Kayoko Kurita (Center for Research and Development of Higher Education, The University of Tokyo) and Mr. Hideo Narita (instructor at Kawaijuku Educational Institution) served as instructors. During the orientation, participants reviewed what they had learned in the online course and covered the main points concerning creating rubrics. In the workshop, they experienced the whole process of creating rubrics by using first-year undergraduate course "Writing Course" as an example. They shared the points to be taken care of when using rubrics by organizing the problems they found in the process.(November 1, 2015)