2020年05月28日
[15th UTokyo FFP] Live Coverage of the Online Classes (DAY 4)
The 15th UTokyo FFP finished the first half of the program.
DAY 4 is titled "Syllabus and Course Design that Contribute to Learning."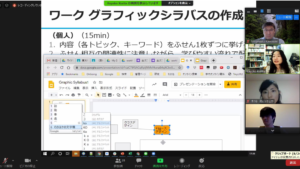 The previous sessions were mainly about a class, but this time, the focus was shifted to a course. (For example, "a class" refers to a 105-min class in UTokyo, and "a course" refers to the entire classes conducted in the S1 Term.)
The class started with reviewing the previous session.
Participants worked in pairs in the Zoom breakout rooms to review "evaluation," the main topic of DAY 3. Before forming pairs, they first individually worked on developing "a good question that would enable reviewing the topic within 10 minutes." Then, they asked that question to their partner in pairs with each other. My partner asked me "a question for review" that included several keywords such as "summative evaluation" and "formative evaluation." Regarding the reviewing methods, Dr. Kurita said, "There are varying degrees of difficulty in reviewing. It is effective to let the learners review the previous topics in accordance with their motivation by gradually raising the difficulty level."
The session moved on to "Syllabus."
Dr. Kurita explained that regarding syllabuses, it is necessary to set a goal that states what the course exists for and objectives that specify the goal, to write sentences with students as the subject, and to write one objective per sentence. Participants then refined the existing syllabuses by sharing the screen on Zoom with their group members. Some participants said, "It was hard to make improvements on preset syllabuses," while others said, "I think I was able to learn a lot about what a syllabus should be through the activity of refining existing syllabuses as if they had been my own," "The activity gave me a hint on what I should consider when creating a syllabus, which I had done vaguely before." and "The picture of classes I can or want to deliver became clear. I felt that creating a syllabus is highly effective in organizing my ideas and field and selecting materials (or items)."
What came next was the creation of "Graphic Syllabus," the highlight of DAY 4.
When the classes were conducted face-to-face, the group activity used sticky notes, but now they were replaced by online tools. The participants shared Google Slides on the screen and had an active discussion there. Most participants seemed to realize the effectiveness of graphic syllabuses as described in the following reactions: "I enjoyed creating a graphic syllabus because the discussion in the breakout room made me identify unclear points," "Creating a graphic syllabus makes it for me easier to grasp the flow and structure of a class. I found out that it is very useful when writing a text syllabus." and "It was interesting to know that creating a graphic syllabus visualized the flow and improvement points, which I couldn't identify when writing a text syllabus."
Here are words from a participant who finished taking DAY 4: "I found it interesting, profound, and difficult to create a syllabus. There are so many things that I can make use of in my own classes that I thought once again that I was glad I took this course. What impressed me in today's class was the group activities. We refined syllabuses and examined their visualization twice constructively in a peaceful atmosphere. I think one of the charms of FFP is that you can realize how the interaction among students has a great impact by putting yourself in the students' perspective."
Now the 15th FFP will move on to the latter half of the program.
Shigekazu Kawasaki
Division for Quality Enhancement of Higher Education
Center for Research and Development of Higher Education