2019年09月27日
[Report] Pre-FFP Held on September 27th, 2019
We held the "Pre-FFP" at Ito International Research Center (Hongo Campus) for the fifth time on Friday, September 27.
Since we heard voices that said, "It is too big a challenge to join the UTokyo FFP throughout a semester without preparation," we gave a brief explanation of the UTokyo FFP and enabled the participants to learn some of the material including active learning through experience in the two-hour event.
There were 17 participants in total. We first gave a lecture on the changes in higher education and the social background of implementing active learning with the following goals: "To understand the significance and changes of education at university and think of them as your own matters."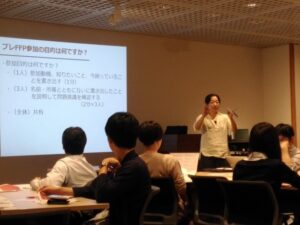 The lecture was followed by two trial sessions as shown below:
(1) Active Learning Strategies
Taking "Think Pair Share" as an example, the participants experienced the strategy and organized the points such as "Clarify the instructions," and "Don't let the means become an end."
(2) Motivation
The instructor presented the model of motivation such as "expectancy" and "value" and let the participants think of a class design that motivates students through a discussion on "cases of failure in conducting classes."
Here are some of the feedback we received from the participants.
—
"I felt that the form of education is evolving rather than just changing." (Graduate student in the doctoral course, Graduate Schools for Law and Politics)
"I had no idea of adopting a style different from what I experienced in the past as a student, so it was very interesting." (Graduate student in the doctoral course, Graduate School of Mathematical Sciences)
—
We would like to express our sincere gratitude to all the participants who spared their precious time for joining our Pre-FFP.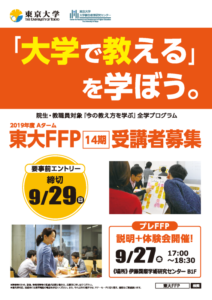 Lastly, we would like to announce that the application form is now available for the UTokyo FFP to be conducted in the next A Term. (Application deadline: Sunday, September 29th.) https://utokyofd.com/en/ffp/apply/
Regardless of your participation in the Pre-FFP, we look forward to your applications!