2018年02月05日
[Report] The 4th Mini-lecture Program at Tokyo Kasei University
The 4th Mini-lecture Program was held at Tokyo Kasei University on Friday, February 2nd, 2018, from 14:00–16:30.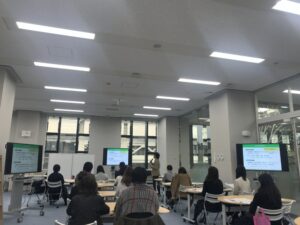 This time, Shoma Mikawa, Department of Veterinary Medical Sciences, Graduate School of Agricultural and Life Sciences, The University of Tokyo, who is expected complete the 10th UTokyo FFP, conducted a lecture on "Vaccination of Dogs."
Preceding the mini-lecture, he refined the design and content of the lecture through two preparatory workshops.
Based on the final design, the lecture started with "Mechanism of Vaccines" and "Vaccination of Humans" as an introduction, followed by the main topic "Vaccination of Dogs." The lecture material was carefully designed, and the content was neatly organized to help the audience easily understand the topic.
The program was structured as follows. The mini-lecture was followed by an explanation of its class design, including the introduction of active learning strategies, and a discussion on what was good about the mini-lecture and what points needed improvements.
Mini-lecture (45 min)
A brief examination of the class design by taking the mini-lecture as an example (20 min)
A discussion to examine the mini-lecture (40 min)
There were 19 participants consisting of students and faculty/staff members of Tokyo Kasei University.
Many of them responded "Extremely good" or "Good" to a five-point Likert-scale questionnaire. We also received the following feedback:
—
・It was nice to know the evaluation and discussion of the class content from the perspective of the instructors. (Student)
・The lecture on a medical topic was informative and gave me a lot of knowledge. (Student)
・It made me think of a class design objectively. (Faculty/staff member)
・I learned a lot such as how to prepare easy-to-understand materials and make presentations. (Faculty/staff member)
*The above feedback is a summary made by the UTokyo FFP staff.
—
We would like to express our sincere gratitude to all the people who joined our mini-lecture program and the faculty/staff members at Tokyo Kasei University who kindly let us hold the event.
The program started as a collaborative program between Tokyo Kasei University and The University of Tokyo Future Faculty Program, and we are marking the 4th event. It is a precious opportunity for both of us; an opportunity to learn and to have a dialogue between students and instructors to think about "good classes" for Tokyo Kasei University, and an opportunity to practice lectures for the UTokyo FFP.
Learning Commons at Tokyo Kasei University Library was provided as a venue for the event through the courtesy of the faculty/staff of the Center for Research and Educational Development, Tokyo Kasei University. We would like to express our sincere gratitude once again to all the members.