2017年10月05日
Publication "English Academia: Learning Academic English Communication through Stories"
This book is the print version of a free online course "English Academia" produced by the PAGE project, Center for Research and Development of Higher Education.
Our online course "English Academia" has already been used by more than 10,000 people. On converting the content into a book, we made improvements in visuals and added Japanese translation to the original English scripts. An audio CD accompanies the book, so you can repetitively learn the content offline.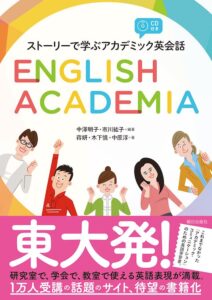 English Academia: Learning Academic English Communication through Stories
http://amzn.to/2fSwjmp
The book is perfect for graduate students and young researchers who have trouble with :
✓explaining their research in English.
✓discussing with overseas students in English.
✓making presentations at international conferences.
✓giving lectures in English.
It helps you learn various English phrases that researchers use in settings such as laboratories, international conferences, and lectures.
The book will surely be a guide for your journey with academic English!
Table of Contents:
Module 1 Introducing yourself and your research
Module 2 Explaining progress in your research in a lab meeting
Module 3 Discussing your research with a colleague
Module 4 Making a presentation at a poster session
Module 5 Giving a presentation at an international conference
Module 6 Socializing at a conference
Module 7 Facilitating group discussions
Module 8 Teaching a class as a guest lecturer
Module 9 Preparing for a teaching demonstration
Module 10 Finale
Please have a look!