2017年04月29日
[9th UTokyo FFP] DAY 3 Syllabus and Course Design
DAY 3 sessions for the 9th UTokyo FFP were held on April 27th and 28th. The topics were as follows:
・The roles of a syllabus
・Setting goals and objectives of a syllabus
・Course design (creating a graphic syllabus)
・Improving a syllabus into one that promotes learning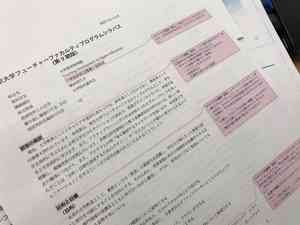 A syllabus is not just a tool for students to choose which course to take but is also something that promotes their learning and a tool for instructors to design the course, which can be used as evidence for their achievement in teaching. Participants first learned such significance.
In DAY 3 sessions, each participant brings a syllabus made by themselves or an existing syllabus of a course that is similar to his/her own and learns about the topic by improving it.
Firstly, participants made sure what the goals and objectives were, modified their own syllabuses, and further improved them in pairs. Then, the instructor explained "Backward Design," followed by the course design activity through the creation of a graphic syllabus. The explanation was given by citing references and syllabus samples created by participants in the past, so it must have been easy for the participants to get the feel of it.
Participants were provided with handouts of the UTokyo FFP syllabus with annotations on each item. They compared the handout with the syllabus they brought and found out the points that needed improvement by themselves. Then, they shared the points in groups.
The instructor used to explain the points one by one, which tended to make the class a "one-way" lecture in the past semesters, but providing the participants with informative materials and having them work on the improvement of syllabuses individually or in groups seem to be much more effective in making them consider the topic in their own contexts. They kept on asking good questions over the following 15 minutes.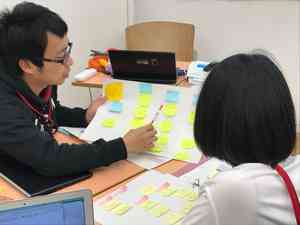 A participant explaining his graphic syllabus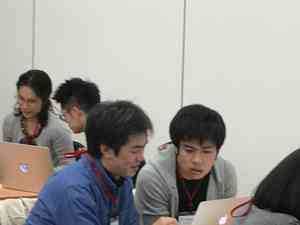 Sharing ideas in pairs
(Kurita)