2017年04月22日
[Publication] "Hakase ni nattara dō ikiru? 78mei ga kataru career path" [How do you live your life after receiving a PhD? Career paths described by 78 people]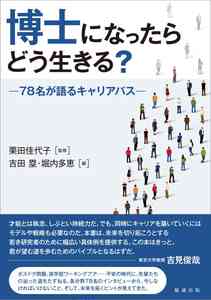 This book was completed thanks to the cooperation of the alumni of "The University of Tokyo Future Faculty Program" (UTokyo FFP)!
What kind of career path can you envision after entering university, proceeding to graduate school, and completing the doctoral program?
What lies beyond completing the doctoral program is highly uncertain for doctoral students themselves as well as the general public.
This book answers the question through interviews with people in various academic fields. The first half of the book organizes the information on the basic procedure to obtain academic degrees at university and what you should do to prepare for building a career as you wish, while the latter half is a collection of interviews with those who completed their doctoral programs ranging as many as 15 academic fields.
It took nearly two years from the very beginning to complete the book thanks to the UTokyo FFP alumni working hard on the basic arrangement of chapters and conducting interviews. It is the diverse backgrounds of UTokyo FFP alumni that realized conducting interviews with people from such a wide variety of fields.
The book collected what those who are working actively in various fields had in their mind and tried to do while they were in the middle of building their careers.
It is strongly recommended not only for undergraduates and graduate students but also for working adults and high school students.