2017年01月15日
[8th UTokyo FFP] DAY 8 Creation of a SAP Chart
The new year has started, and DAY 8, the final session of the UTokyo FFP, was held on January 6th and 12th.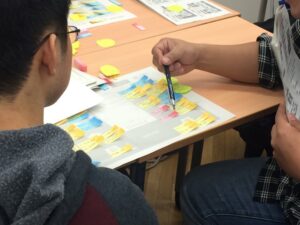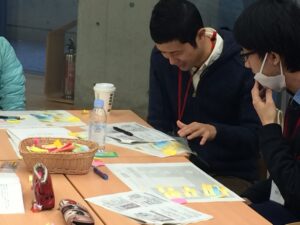 This session is for overviewing and reflecting on the participants' own teaching, research, and other activities, recognizing the philosophy of their activities (i.e., what they consider important in their activities), and setting objectives for their future career by creating a worksheet called "SAP Chart."
SAP stands for "Structured Academic Portfolio" (Yoshida & Kurita, 2016a). Essentially, an academic portfolio is "a reflective, evidence-based collection of materials that documents teaching, research, and service performance" (Seldin & Miller, 2009). The feature of SAP is that "the description is structured with specific steps and points." A SAP Chart (Yoshida & Kurita, 2016b) is positioned as a preparatory assignment for creating a SAP, but since it enables the author to reflect on his/her entire activities in a short time (though roughly) and makes it easier to overview the description, it can also be used as a single item. It is a suitable tool for graduate students to envision their career paths and gives them an opportunity to connect what they learned in the UTokyo FFP and their own teaching philosophy. This is why the creation of a SAP Chart is incorporated into the materials in the final session of the program.
Participants were given three and a half hours to create their SAP Charts. They shared their works in pairs at any time and deepened their reflection by explaining their charts and answering questions cast by their partners. They first seemed to be "awkward" in explaining their teaching philosophy and research values to another person, but they gradually got used to it and had a lively discussion with their partners; they could not stop talking even when we announced the closing of the sharing session.
We are relieved that the 8th semester of UTokyo FFP completed the entire classes with earnest participants. The amount of knowledge and skills we can share within a semester is limited, but the value of this program is whether the participants can acquire the attitude to keep thinking about education, and we hope they did.
We would like to improve the program for the next semester (the 9th UTokyo FFP), based on the result of the questionnaires filled out by those who completed the 8th semester. Thank you for taking the course.
Kayoko Kurita
Seldin, P., & Miller, J. E. (2009). The academic portfolio: a practical guide to documenting teaching, research, and service (Vol. 132). John Wiley & Sons.
Yoshida, L., & Kurita, K. (2016a). Kōzōka academic portfolio sakusei no hyōka [Evaluation of the creation of a Structured Academic Portfolio]. The 22nd Kyoto University Conference on Higher Education, 238-239, 2016.3.17-18, Kyoto University
Yoshida, L., & Kurita, K. (2016b). Evaluation of Structured Academic Portfolio Chart and Workshop for Reflection on Academic Work. Procedia Computer Science, 96, 1454-1462.