2023年10月04日
[Report] Coursera "Interactive Teaching": The 2nd Real Session DAY 3
The following is a brief summary of DAY 3 of the Real Session held on September 15th (Fri), 2023.
■Objectives for DAY 3
●Be able to envision your career path and organize your daily activities and future prospects.
■DAY 3 Schedule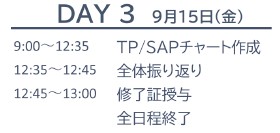 [TP/SAP Chart Creation] (9:00–12:35)
Participants were divided into two groups according to their needs and respectively created a chart: a TP chart (Instructor: Kurita) or a SAP chart (Instructor: Park). The objectives of this activity were to reflect on their teaching/research activities and to make use of such reflection in improving their future classes and clarifying their career paths.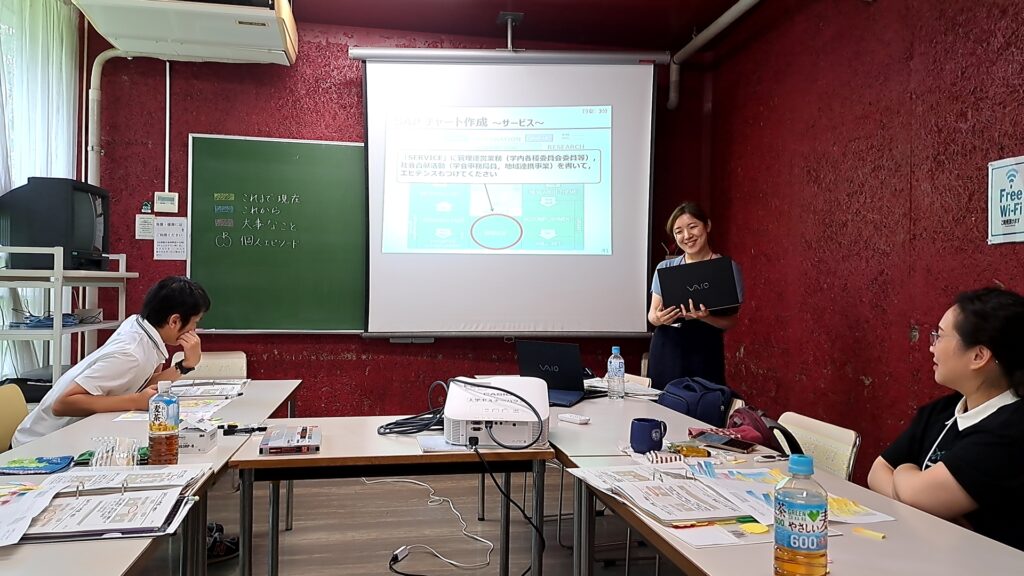 [Reflection on the Entire Session] (12:35–12:45)
Participants reflected on the entire session and individually organized what they had learned and their thoughts.
[Award of Certificate of Completion] (12:45–13:00)
The certificates of completion were awarded to participants.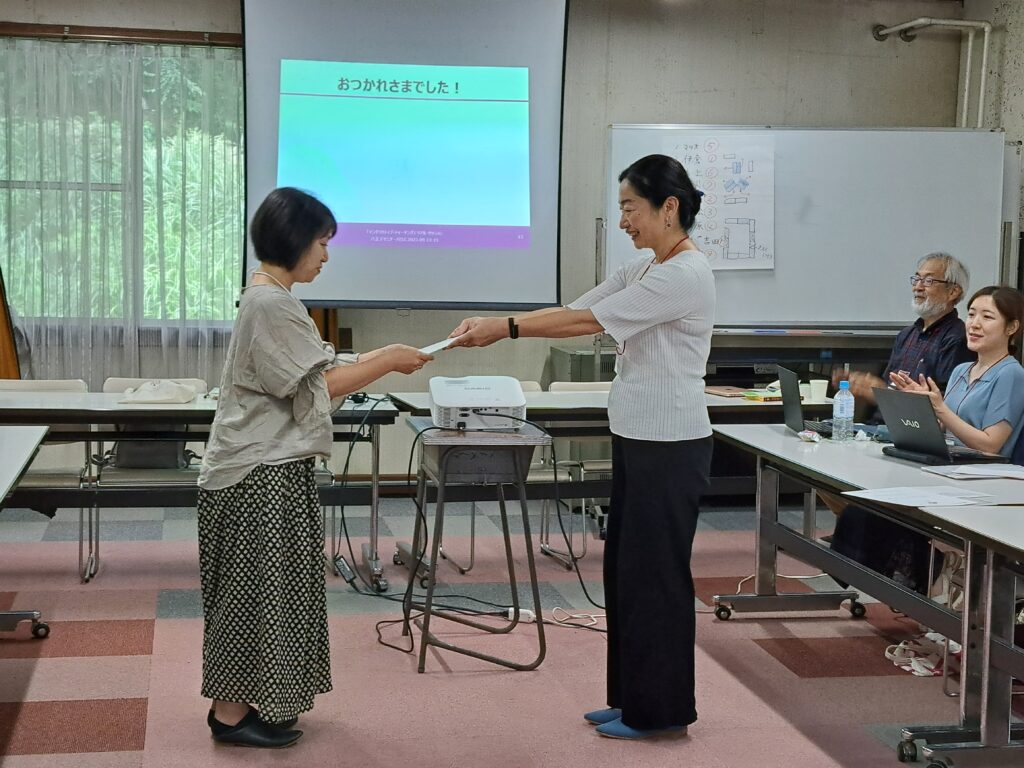 ■Participants' Reactions
Eight participants answered our questionnaire after the session. Regarding the question on the satisfaction of the whole event (i.e., a five-point scale question with "5: Extremely satisfied" and "1: Extremely dissatisfied"), four people (50%) rated "5" (the highest), and four (50%) rated "4." Furthermore, seven participants (87.5%) rated "5" (the highest)  and one (12.5%) rated "4" to the question asking whether participation in the event would be useful to their future ("5: Strongly agree" and "1: Strongly disagree").
Here are some of the feedback we received in the comment section (*Please note that we partly extracted the feedback to anonymize the respondents.):
●What did you find good about this event?
"That I could experience the practical learning that can be a review of the online course but also lead to the knowledge retention and improvement of my teaching skills.

"That the session as a whole was built on participative learning and I could learn active learning through experiencing it."

"That I could deliver a microteaching lecture twice and receive feedback for that. That the venue like "culturally isolated island" allowed me to immerse myself in the session for three days and two nights. That a lot of informal interactions happened by conducting the session face-to-face. That I could spend fulfilling three days thanks to the staff's support."

"The SAP Chart Creation was a great reflective opportunity. The workload was not small, but the time passed so quickly as the other participants listened respectfully to me and gave me comments about it in pairs.

"It was great that even on a small scale I practiced what I learned through the online course and received feedback. There were many things that I only noticed after doing myself."

"That I could acquire the knowledge and skills necessary for learner-centered learning. That I could get to know people with various professions and received opinions from diverse perspectives."
●Other remarks and comments
"The content itself was highly suggestive and I could interact with people from a wide variety of fields."

"Since I am not a teacher, I was not sure if I can participate until just before the session. However, it turned out to be a great opportunity. The announcements from Kawakami-san were just right amount and spot-on, so that also encouraged me to join it. Looking back, I enjoyed being deep in the mountains of Hachioji. Thank you very much♪"

"Overall, the session schedule was so tight including the revision of microteaching after the session on DAY 1, but I thought the certificate has the value for that."

"I am sincerely grateful for this opportunity despite your very busy schedule. I would like to recommend this session to educators in my hometown or those with whom I have connection. Also, if I can, I would like to participate in it again to retry a 6-minute class. I hope to carry out the missions from my standpoint at that time. Thank you for your support."

"The learning made me realize that I knew nothing and think that I want to learn more. Also, the face-to-face intensive session was a pleasant stimulus for me to learn about blind self and the knowledge of ignorance. I will put this learning into practice wherever I am situated in the future. I am grateful for the three days of active learning. Thank you very much.

"Thank you very much for the three days. I would like to participate again if there is a chance."

"It is fun to have a training camp for adults. Thank you for your preparation to make it so. I had a fruitful summer vacation."
We are pleased that we received high ratings from all the respondents in various aspects. They also provided us with a lot of comments on the points that need improvement and requests for topics to be focused on in the future. We are eager to develop new events based on the opinions we received. We would like to express our sincere gratitude to all the people who provided us with feedback.
■What's Next?
The event was the first training-camp-style Real Session to be held after the launch of the course "Interactive Teaching." The responses to our questionnaire show that many of the participants learned a lot from the Real Session. On the other hand, since we staff were not familiar with this form of event, there were also many comments on the points that need improvement and requests for topics to be focused on in the future. Reconsidering the venue, procedure, and event structure, we are eager to develop/run events based on the feedback. We hope that many people will join our future events. Details are to be announced. We look forward to your participation.
Airi Kawakami (Project Academic Specialist in charge of "Interactive Teaching")