2017年04月04日
【Event report】Master the skills in a day! Arts of making presentations in English
<About>Tuesday, March 14th, 2017
The Center for Research and Development of Higher Education organized an English Academia workshop "Master the skills in a day! Arts of making presentations in English." Its purpose was to let the participants master the arts of making attractive presentations on their research topics in English. The workshop was placed as an offline practice session for an online course "English Academia" (https://utokyo-ea.com).
It was held at Fukutake Learning Studio, Hongo Campus. A total of 17 participants consisted of graduate students at the University of Tokyo, coming from a variety of fields of science and humanities. Bilingual staff at the Center served as the facilitators, and the instructors included those who used English as their first language.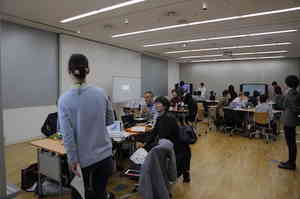 The participants were divided into groups of two to four with one instructor for each and practiced making presentations. Before the workshop, they had been asked to prepare presentation materials explaining the main concepts and keywords of their research questions easily understandable to the undergraduate students new to their fields. Each participant first made a five-minute presentation in English using the materials they had prepared and received feedback from the instructor and the other participants. Their presentation topics covered a wide variety of themes such as "Machine Learning," "Bitcoin," "Unemployment Rates," and "Protein Engineering." We filmed and recorded each presentation with iPads and IC recorders so that they could review their own presentations objectively.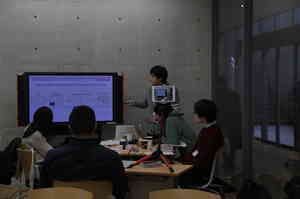 Subsequently, staff who used English as their first language shared the feedback on the skills of English presentations with all the participants. Following a break, the participants individually worked on improving their presentation materials and methods. They were able to consult the instructors at any time and also had an active discussion with other participants. Finally, they gave a second try on making presentations and received feedback in groups. All the presentations were improved from the first ones; it was easier to understand by the audience, and their visual materials, diction, use of their eyes, and gestures were refined.
We received positive feedback from the participants after the workshop as follows:
"It was highly valuable to receive feedback from various people."
"In addition to mastering the skills in making presentations, I realized the importance of taking an appropriate attitude of mind."
They also seemed to look forward to our future workshops by listing the topics they would like us to take up such as "Q&A sessions at academic conferences," "poster sessions," "delivering classes for overseas students," and "interviews in English."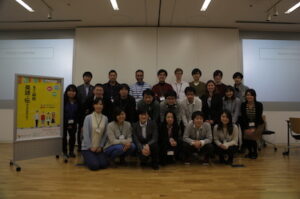 We will continue to hold workshops related to English Academia on the improvement of academic communication skills in English for young researchers. We sincerely look forward to your participation.
Click here for more details of English Academia.↓
https://utokyo-ea.com
Click here for more details of the PAGE project. ↓
https://www.he.u-tokyo.ac.jp/activities/page/