2016年10月29日
DAY3 of UTokyo FFP Syllabus & Course design
UTokyoFFP values "Learning by and from experience" and "Learning as the leading actor"
For example, participants experienced Peer instruction. This method enhances active learning through answering the closed questions with small group discussion. Students experienced the whole process by using clickers and they seemed to understand the values and process of Peer Instruction.
On October 27th and 28th, DAY3 classes of UTokyoFFP were held. Main theme are as follows.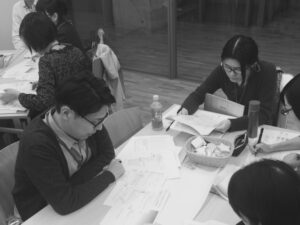 ・How many roles of syllabus do you know?
・How to set the purpose and objectives of the syllabus
・Let's create our courses's graphic syllabus
・How can we enhance student's learning by our syllabus?
Students brought their syllabus made by themselves or one made by others which course they could teach in the future.They learned the syllabus through improving these syllabus. They created their graphic syllabus as they constructed the course structure for satisfying the purpose and objectives. I thought they could be aware of the various functions of syllabus other than the material for course selection.
By the way, the class has a review session at the beginning. Students can experience it in many styles.
Today's session was as follows
1) Instructor showed the set of keywords of the previous class.
2) After making pairs, Students tried to explain them without materials in pairs. They explained at loud.
3) Students checked their explanation by referring the material.
4) As a whole class, students made sure the explanation facilitated by the instructor.
The group work in the early timing of the class is effective for enhancing warm atmosphere in the class. The pair work is most effective for this purpose.
[:]