2019年12月10日
[PAGE] A new massive open online course on English medium instruction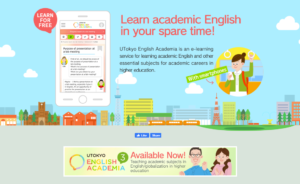 We are delighted to announce the launch of a new MOOC on EMI, entitled "UTokyo English Academia 3: English Medium Instruction in Higher Education (EA3: https://utokyo-ea.com/en)". EA3, which was developed by the University of Tokyo in close collaboration with the University of Edinburgh, covers a wide range of topics shown below.
Module 1  Introduction
Module 2  What is EMI?
Module 3  Where is EMI conducted?
Module 4  Why is EMI conducted?
Module 5  How is EMI conducted?
Module 6  Teachers
Module 7  Students
Module 8  Administrators and Universities
Module 9  Policymakers
Module 10 Conclusion
Module 11 Final assignment
Anyone can sign up for EA3 and can use it free of charge to teach or learn about EMI. We hope many people will benefit from EA3.
Contact:
Professional and Global Educators' Community
Center for Research and Development of Higher Education
The University of Tokyo
page-ea [at] tree.ep.u-tokyo.ac.jp (please replace [at] with @)