2020年03月13日
【Event report】PAGE Special Guest Workshop ② Teaching in English
<About>
Friday, December 13th, 2019, 14:00-16:00 @Galllery 1, B1, Ito International Research Center, Hongo Campus
Professional and Global Educators' Community (PAGE) organized a workshop "Teaching in English <Introductory Course>." We invited Dr. Michal Mazur (Assistant Professor, Nitobe College for Graduate Students, Institute for the Advancement of Higher Education, Hokkaido University) as an instructor. A total of 12 participants consisted of graduate students and faculty members at the University of Tokyo.
The workshop was intended for those who were likely to or had just begun to teach in English.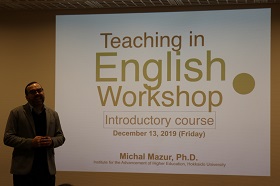 It started with a lecture on the three elements of teaching in English: language skills, educational skills, and culture. The participants learned that instructors do not necessarily have to become a perfect English user.
They also learned simple English expressions which are easy to understand for students, and deepened their understanding of the differences in the way of thinking and studying caused by the variety of student background through case studies.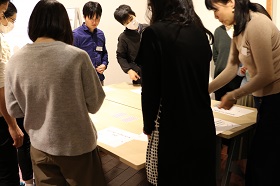 Here are some of the feedback we received from the participants after the workshop:
"It was very helpful and informative."
"I noticed that there are many cultures of learning."
"The part of Active Learning overlapped with the UTokyo Future Faculty Program."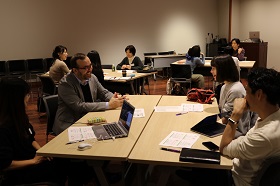 PAGE will continue to hold workshops focusing on the improvement of academic communication skills in English. We sincerely look forward to your participation.
※Click here for a free online program provided by the PAGE project: English Academia.↓
https://utokyo-ea.com
※※Click here for more details of the PAGE project. ↓
https://www.he.u-tokyo.ac.jp/activities/page/