2021年12月27日
"UTokyo Global FFDP" Logo Release
The logos of "UTokyo Global FFDP" (UTokyo Global Future Faculty Development Program) have been released.
The logos use colors and design similar to UTokyo FFP's logos so that they can be easily recognized as a program related to UTokyo FFP.
Besides the logos in the PDF file below, there are several design patterns varying in color and character array, and they will be used depending on the purpose. We hope that everyone will get familiar with the logos as well as our new program (*), which will be launched in April 2022.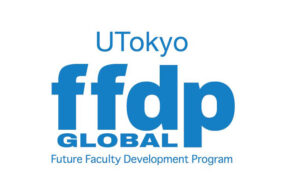 UTokyo Global FFDP logos (To see the other designs, please open this PDF)
*What is "UTokyo Global FFDP" (UTokyo Global Future Faculty Development Program)?
"UTokyo Global FFDP" is the English version of UTokyo FFP (☆), adjusted to meet the needs of international participants, keeping in mind their diverse learning backgrounds and possible future careers in academia. Starting from spring of 2022, this program aims to contribute to the training of students as future Higher Education teachers.
UTokyo Global FFDP covers topics that are essential for the participants' careers as university teachers such as "the science of learning", "teaching-learning strategies", "assessment and feedback", "syllabus design", "class design" and so on. Participants can actively and cooperatively learn about these topics from an international and a pedagogically critical perspective. Also, in addition to developing educational competences, this program aims to foster the participants' competence to cope with the globalization of university education.
☆Center for Research and Development of Higher Education is providing UTokyo Future Faculty Program (UTokyo FFP), which is a program designed for UTokyo graduate students who aim to be university teachers, postdocs, or young faculty members to boost their teaching abilities.
For more details, please see below.
UTokyo Faculty Development (UTokyo FD) | UTokyo | UTokyo FFP
---
(The followings are the logos of UTokyo FFP)UTokyo FFP logos
---