2020年03月12日
【Event report】Workshop on English for Academics: Lectures and Presentations Essentials
<About>
1) Saturday, November 30th, 2019 @K401, 4F, 21KOMCEE WEST, Komaba Campus I
2) Saturday, January 11th, 2020 @Fukutake Learning Studio, B2, Fukutake Hall, Hongo Campus
Professional and Global Educators' Community (PAGE) organized "Workshop on English for Academics: Lectures and Presentations Essentials" in collaboration with the British Council. Since the last workshop was highly appreciated by the participants, we decided to hold two workshops for this fiscal year on both Komaba and Hongo campuses. In total, there were 23 participants consisting of graduate students and faculty members at the University of Tokyo. The research fields of the participants were diverse, such as cognitive science, nursing science, sociology, and astronomy.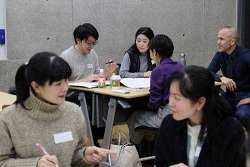 In these workshops, we invited an instructor from the British Council to learn about logical structuring of lectures and presentations in English, effective use of English expressions and visuals, and how to use body language. With the use of workbook and through discussions in English, participants were actively engaged in learning.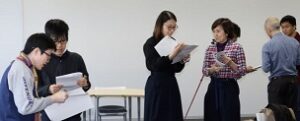 Here are some of the feedback we received from the participants after the workshops:
"I am glad that the instructor gave advice to each of us and also helped us give feedback to other members."
"It was helpful that the workshop allowed me to practice many times to give presentations on my research. I was able to improve my English presentation skills."
"The workshop was well structured by the instructor. Teaching materials were good, so I never got tired."
PAGE will continue to hold workshops focusing on the improvement of academic communication skills in English. We sincerely look forward to your participation.
Click here for a free online program provided by the PAGE project: English Academia.↓
https://utokyo-ea.com
Click here for more details of PAGE project. ↓
https://www.he.u-tokyo.ac.jp/activities/page/