2022年03月30日
Welcome to the New UTokyo FD Website
Thank you for visiting the website of UTokyo Faculty Development (UTokyo FD).
Center for Research and Development of Higher Education, The University of Tokyo is pleased to announce the launch of our new website.
Based on the slogan "Let's learn to teach at university," we integrated the previous search items into a single one ("Search by Purpose") and redesigned the whole structure with the UTokyo FD logo and photos/colors relaxing for the eyes.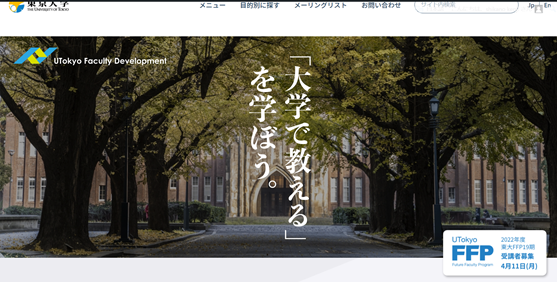 (The front page)
*Features of the new website:
・Design that allows the visitors to view and search items easily
・Colors and design that fit faculty/students/researchers
・Responsive web design for smartphone/PC users
・A website dedicated to faculty development (FD), where instructors inside and outside the University can interact with each other
・Combination of static pages on program introduction and dynamic pages on articles such as the "Teaching Tips" series.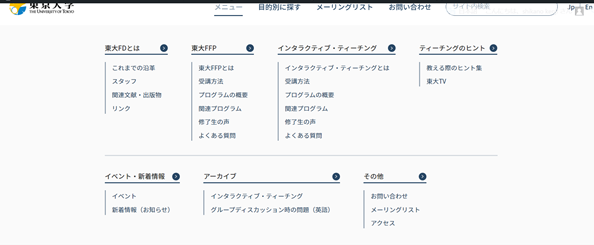 (Menu)
"Teaching Tips" and English pages will be published soon. Please stay tuned for further updates!