2020年02月21日
[Event Report] "The 14th Mini-lecture Program at the Library" (Feb 20, 2020)
"The 14th Mini-lecture Program at the Library (Mini-lecture Program by UTokyo Graduate Students)" took place on February 20th, 2020.
Seven students out of those who completed the 14th UTokyo FFP gave presentations to a large audience consisting of various people from undergraduate and graduate students at the University to those outside the University.
Although it was a short time, the audience experienced a variety of activities designed based on what the speakers learned in UTokyo FFP, followed by a lively discussion among the whole participants.
We are planning to hold the next 15th Mini-lecture Program in the summer of 2020.
We look forward to your participation.
Lastly, we would like to express our sincere gratitude to all the University of Tokyo Library System staff members for organizing the event together.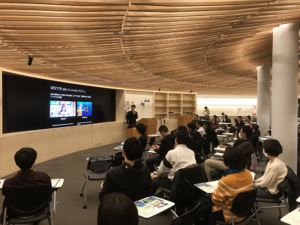 ー----------------------------
*Click the following link for the lecture videos: The 14th Mini-lecture Program by UTokyo Graduate Students and Faculty Members | UTokyo TV (todai.tv)