2022年02月27日
2: Jigsaw Method
Jigsaw Method
1. Definition  
The Jigsaw Method is a technique to support collaborative learning*.              *A method to support group activities
Participants can grasp the whole picture of the learning material and deepen their understanding from multiple angles by combining each component like assembling a jigsaw puzzle. It is crucial that the instructor prepare adequate problems.
The method was proposed by American social psychologist Elliot Aronson, Professor Emeritus at the University of California, Santa Cruz, in the 1970s.
2. Implementation (Example)
(1) Divide a long English passage into three parts: A, B, and C.
(Preparation and division of learning materials)
(2) Divide students into three groups ("expert groups") and assign each group with different materials (A, B, and C). Let the members of each group cooperate with each other to translate the assigned segment of the English passage into Japanese.
(Distribution of materials and group activities)
(3) Form new groups, each comprising members from different groups (A, B, and C). It means that each new group consists of students who translated either A, B, or C.
(Reorganization of groups)
(4) Let the new groups ("jigsaw groups") work by having each member explain the segment he/she translated. The groups will then organize the translation of the whole passage.
(Jigsaw group activities)
(5) Let each jigsaw group make presentations on their translation.
(6) It takes about 60 minutes in total. (It depends on the total number of participants and groups.)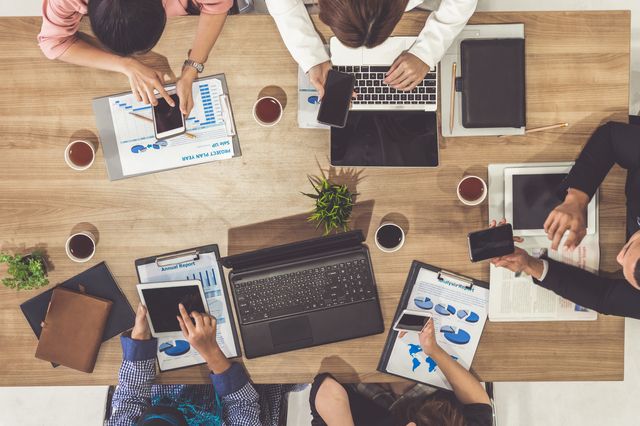 (The image of group activity)
3. Features and Tips
・It enables the individual learners to become responsible.
・It helps participants to practice communicating with each other.
・It helps participants to develop their tolerance of the differences in ideas.
・It is necessary to set problems that deepen learning.
・Be careful of time allocation because the procedure includes the reorganization of groups.
・Be careful to divide groups equally.
4. Examples
Click the following link. → An example of the Jigsaw Method
5. References and Other Materials
Click the following link. → Video clips related to the Jigsaw Method