2018年04月04日
[Report] Pre-FFP Held on April 2nd, 2018
We held the "Pre-FFP" in 92B, Faculty of Engineering Building 2 on Monday, April 2.
Since we heard voices that said, "It is too big a challenge to join the UTokyo FFP throughout a semester without preparation," we gave a brief explanation of the UTokyo FFP and enabled the participants to learn some of the material including active learning through experience in the two-hour event.
We welcomed about 20 participants including those without pre-registration. Looking at the breakdown, doctoral students (11) came first, followed by several master's students, postdocs, and faculties.
As for the affiliation, five participants came from the School of Science, two from the School of Engineering, and the others from a wide variety of departments such as the Graduate School of Education, Graduate School of Interdisciplinary Information Studies, and Graduate School of Frontier Sciences.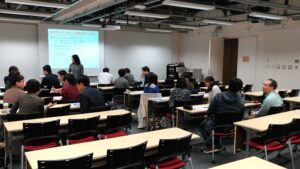 We first gave a lecture on the changes in higher education and the social background of implementing active learning with the following goals: "To understand the significance and changes of education at university and think of them as your own matters."
The lecture was followed by two trial sessions as shown below:
(1) Active Learning Strategies
Taking "Think Pair Share" as an example, the participants experienced the strategy and organized the points such as "Clarify the instructions," and "Don't let the means become an end."
(2) Motivation
The instructor presented the model of motivation such as "expectancy" and "value" and let the participants think of a class design that motivates students through a discussion on "cases of failure in conducting classes."
Here are some of the feedback we received from the participants.
—
"I realized the changes in education (i.e., the shift in the focus from what the instructor taught to what the students learned) and the significance of FFP as a means to adapt to such changes." (Graduate student in the doctoral course, School of Science)
"It was such a meaningful experience just to have an opportunity to discuss with people and doctors coming from various academic fields." (Graduate student in the master's course, Graduate School of Arts and Sciences)
"Knowing that faculty staff, too, can join the program, I'm considering applying for the course. It was informative with highly practical material. I am currently working as a part-time lecturer at other universities, so I'd like to make use of what I learned today." (Postdoc, Graduate School of Medicine)
—
We would like to express our sincere gratitude to all the participants who spared their precious time for joining our Pre-FFP.
Lastly, let us announce that the application for the UTokyo FFP (S Term) is now open. (Application Deadline: Sunday, April 8th. https://utokyofd.com/en/ffp/apply/ )
Regardless of your participation in the Pre-FFP, we look forward to your application!