2017年03月17日
[8th UTokyo FFP] Certificate Award Ceremony Conducted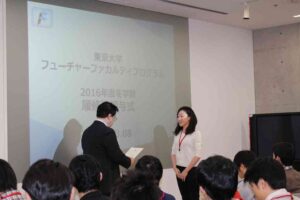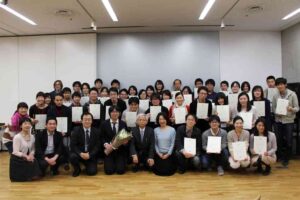 The 8th Certificate Award Ceremony of "The University of Tokyo Future Faculty Program (UTokyo FFP)" was held in Fukutake Learning Studio, Fukutake hall, on Wednesday, March 8th, 2017.
Forty-eight participants completed the 8th program, each receiving a certificate from Prof. Osamu Sudo, Director of the Center for Research and Development of Higher Education, The University of Tokyo. They also received a congratulatory address from Prof. Yojiro Ishii, Executive Vice President (in charge of education and assessment), The University of Tokyo.
Alumni also appeared and introduced their alumni network. Participants exchanged information over snacks after the ceremony.
The UTokyo FFP marked its fourth anniversary with eight semesters, producing a total of 383 people who completed the program from every graduate school at The University of Tokyo. We are eager to develop the program more and more.
The 9th UTokyo FFP is scheduled to start in April 2017. The application form is available on the following web page.
[Application deadline: April 9th (Sun) 23:59]
https://utokyofd.com/en/ffp/apply/
(Matsubara)