2016年07月04日
[7th UTokyo FFP] Certificate Award Ceremony Conducted
The Certificate Award Ceremony of "The University of Tokyo Future Faculty Program (UTokyo FFP)" was held on July 2nd, 2016.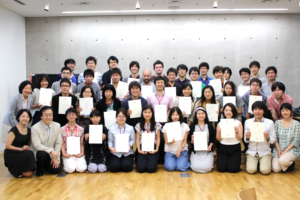 Forty-six participants completed the 7th program. Congratulations!

Since the University of Tokyo shifted to a 4-term system, the program was conducted every week with two consecutive periods for each; until the last semester, it had been held every other week in principle. The program seemed like an intensive course and finished in a flash.
Prof. Osamu Sudo, Director of the Center for Research and Development of Higher Education, The University of Tokyo, gave a congratulatory address and presented each participant with a certificate.
The ceremony was conducted successfully with the cooperation of the alumni: Lui Yoshida (the 1st semester), Tomoaki Wakabayashi (the 4th semester), and Sayuri Tanabashi (the 6th semester). Thank you all!
The 8th semester will start in the A Term. Two classes will be available on Thursday and Friday, and both are to be conducted every other week on Hongo Campus. Further information will be announced on this website, but we will also inform you of the opening of the application period if you could register on the pre-application form. Please click here for the pre-application form.
Thank you for your continued support of the UTokyo FFP.