2017年11月10日
【Event report】"Improve your presentations in English! Remedies to your troubles"
<About>Saturday, September 30th & Sunday, October 1st, 2017
Professional and Global Educators' Community (PAGE) organized a workshop "Improve your presentations in English! Remedies to your troubles." We planned the event in response to the recent demand of outputting research in English along with the globalization of research environment. The purpose of the workshop was to let the participants improve their skills in making academic presentations in English.
It was held at the Faculty of Engineering Building 2, Hongo Campus. A total of 25 participants consisted of graduate students and postdocs at the University of Tokyo. They came from diverse academic fields such as the Graduate School of Humanities and Sociology, the Graduate School of Economics, the School of Science, the Graduate School of Medicine, and the School of Engineering. In addition to those who spoke English as their first language, professional English interpreters and bilinguals with a long experience of studying overseas served as instructors. The workshop was conducted in small groups.
The participants were divided into groups of two to five, and each of them made a presentation on their research and received feedback from the instructor and the other participants. The presentations covered a wide variety of themes of science (such as "carbohydrate metabolism" and "olfactory map") and humanities (such as "gender division" and "rural development"). All the presentations were filmed and recorded with iPads and IC recorders, and the data were provided to the presenters who needed them.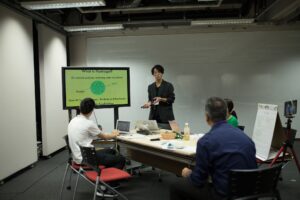 Subsequently, the English instructors made sample presentations. As they say, "Seeing is believing." The participants seemed to have learned a lot from the instructors' performance with visually organized slides, effective gestures that attracted the eyes of the audience, and logically structured content without unnecessary things.
The participants then individually worked on improving their presentation materials and methods. They were able to consult the instructors at any time and also had an active discussion with other participants.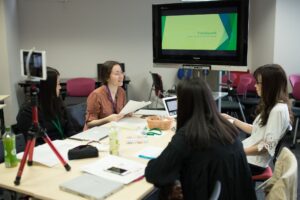 Finally, they gave a second try on making presentations and received feedback in groups. Some participants used a projector and a massive screen as if they were making presentations at a real academic conference. Through a half-day exercise, all the groups were able to improve their presentations from the first ones. The instructors commented on the presentations, and all the participants shared the points they should further improve.
We received positive feedback from the participants after the workshop as follows:
"With an opportunity to make a presentation and receive thorough feedback in such a small group, I sincerely feel that I've made a progress in just a half day."
"It was valuable to receive thorough feedback from the instructor. Thanks to it, I gained a little confidence. The workshop was a precious time for me."
"By immersing myself in an environment where I had to make a presentation without any script, I came to realize surprisingly that I was able to make it. I gained self-confidence."
PAGE will continue to hold workshops on the improvement of academic communication skills in English. We sincerely look forward to your participation.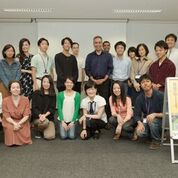 Click here for a free online program provided by the PAGE project: English Academia.↓
https://utokyo-ea.com
Click here for more details of the PAGE project. ↓
https://www.he.u-tokyo.ac.jp/activities/page/