2020年05月21日
[15th UTokyo FFP] Live Coverage of the Online Classes (DAY 1–3)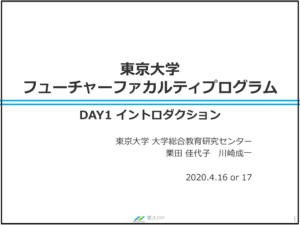 The UTokyo FFP started its 15th semester live online via Zoom, adhering to the COVID-19 safety protocols.
DAY 1 "Introduction" (April 16th–) involved icebreaker activities (e.g., letting the participants get to know each other and introduce another participant to the others) and a 1-min research presentation. An assignment was given to film and upload one's research presentation, and participants peer-reviewed them.
DAY 2 "Class Design" (Motivation, Class Design, and Active Learning) was a session to learn about how to motivate students, the significance of class design, the ADDIE model, and active learning strategies. Within a limited time frame, participants were able to learn about various topics in effective ways. In terms of learning about motivation, participants discussed in groups in Zoom breakout rooms and organized their ideas on digital sticky notes by sharing a Google slide on their screens, which showed the distinctive quality of online classes.
In DAY 3 "Evaluation" participants shared their ideas through frequent use of Google Forms. (Letting everyone fill out the form and share their replies immediately are the advantage of online classes.)  Also, a gallery walk was conducted online when the participants practiced creating rubrics. The session actively integrated new tools into its class design to make optimal use of online settings.
As described above, the 15th UTokyo FFP started with mixed feelings of expectations and concerns, struggling to realize online what the programs have conducted in face-to-face classes. However, many participants gave us positive feedback on the online classes as follows: "It was my first time taking online classes, but I was surprised that the session proceeded just as smoothly as face-to-face classes," "I enjoy taking online classes because I can learn through the interaction with other participants in breakout rooms," and "The program so skillfully uses different apps such as Zoom, Sli.do, and Google Classroom, depending on their properties, that there were no differences with offline classes."
Online courses may become more popular in the future. Some participants expressed their high expectations of our program, saying, "I first thought that it was unfortunate to take this course online, but considering the increasing significance of online courses from now on, it is a good opportunity to learn about online classes from the professionals who are the researchers of the latest trend of interactive teaching."
The 15th UTokyo FFP has just finished DAY 3, and there are still more than half of the program left, but we will make further efforts to deliver and refine UTokyo FFP-like online classes to reach the goal (DAY 8).
Shigekazu Kawasaki
Division for Quality Enhancement of Higher Education
Center for Research and Development of Higher Education